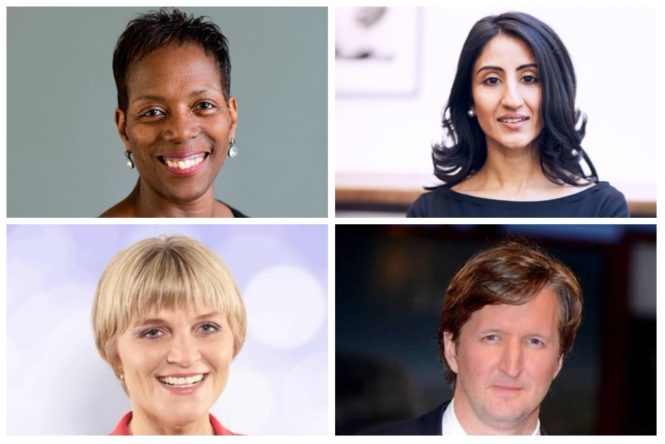 Ofcom today announced the appointment of four new non-executive directors to the Board of Channel 4; Althea Efunshile CBE, Uzma Hasan, Fru Hazlitt and Tom Hooper. The appointments have been approved by the Secretary of State for Digital, Culture, Media and Sport, Karen Bradley MP. Tom Hooper and Althea Efunshile are appointed to initial terms of four years, and Uzma Hasan and Fru Hazlitt to initial terms of three years.
About Althea Efunshile
Althea Efunshile CBE is the Chair of the National College Creative Industries. She is also a Board Member and Trustee of Ballet Black, and a Non-Executive Director of Goldsmiths College (University of London) and University College London NHS Foundation Trust. Althea has also held senior executive positions in the cultural and educational sectors, including Deputy Chief Executive at the Arts Council, and Executive Director for Education and Culture at the London Borough of Lewisham.
About Uzma Hasan
Uzma Hasan is a producer and co-founder of Little House Productions, which focuses on bringing subversive stories to global audiences. She sits on selection committees for the British Independent Film Awards and Film London and consults for the International Film Festival Rotterdam. Her latest feature FirstBorn sold worldwide to Netflix and she is currently developing BAFTA nominee Ritesh Batra's next film.
About Fru Hazlitt
Fru Hazlitt is currently a Non-Executive Director at Merlin Entertainments and Deputy Chair of the Board at Downe House School. She has held senior executive positions across the UK's media industry, including Managing Director of Commercial, Online and Interactive at ITV, Managing Director at GCap Media, and Chief Executive at Virgin Radio.
About Tom Hooper
Tom Hooper is the Oscar-winning director of The King's Speech, The Danish Girl and Les Misérables. He began making short films as a teenager, and had his first professional short, Painted Faces, broadcast on Channel 4 in 1992. His film and television work has received a number of industry awards and nominations – including Emmys and Golden Globes for Elizabeth I and Longford, both of which he directed for Channel 4. Tom has been a Governor of the British Film Institute since 2011.