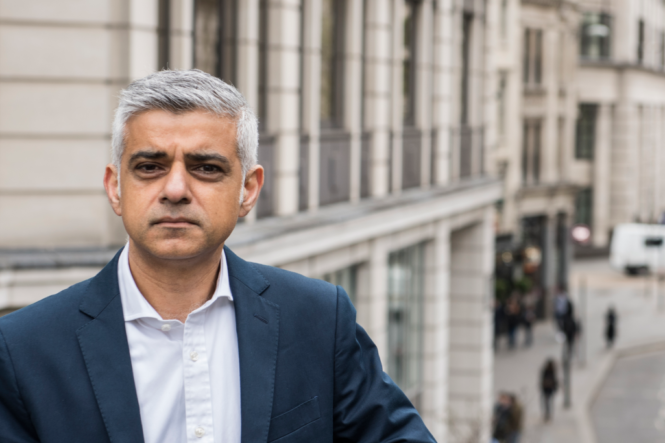 'Behind Every Great City is equality, opportunity and progress' – Sadiq Khan announced a major new campaign to drive gender equality across London today (18th December 2017). The Mayor welcomed Art on the Underground's first-ever year-long programme of works by exclusively women artists to coincide with the centenary
Ahead of the centenary of the first women in the UK securing the right to vote, the Mayor of London, Sadiq Khan, has today unveiled a major campaign to celebrate the role London played in the women's suffrage campaign, to mark the progress that's been made on women's equality over the past 100 years and to drive gender equality across the capital.
#BehindEveryGreatCity campaign
Sadiq Khan's new #BehindEveryGreatCity campaign will champion the fact that it is the achievements and contributions of women, from all walks of life, which make cities like London great. It will coincide with the 100 year anniversary of the 1918 Representation of the People Act, which gave some women the vote, and was introduced thanks to the campaigning of suffragists and suffragettes.
The campaign slogan #BehindEveryGreatCity is a deliberate play on the feminist slogan used globally in the 60s and 70s, 'Behind every great man stands a great woman' and highlights that women don't stand behind great men, but instead power great cities.
New data released by City Hall today reveals that, in London, three times more women than men say that their gender hinders their progression at work, while four times more men say their gender helps their progression in the workplace*. Recent data from the ONS showed that in the last 20 years, the gender pay gap in London has closed by only half a percent from 15.1 per cent, down to 14.6 per cent **.
As a proud feminist, Sadiq Khan has pledged to tackle gender inequality in all its shapes and forms. The Mayor will use the centenary of the Representation of the People Act in 2018 to work with London's many leading industries – from culture, education and business, to politics and public life – to support the continuing success of women and to push for greater gender equality for women from all backgrounds across the city.
Throughout 2018, the campaign will highlight London's story in the history of the women's suffrage and equality movement, celebrating significant milestones and achievements while identifying and tackling barriers to women fulfilling their potential. The campaign will be officially launched just before the New Year.
A range of events and celebrations will take place, kicking off with a year-long programme of works by exclusively women artists on London Underground.
Art on the Underground
For the first time ever, Art on the Underground, Transport for London's public art programme, has commissioned work from an international selection of renowned women artists to mark the momentous year, including major commissions from British artists Heather Philipson at Gloucester Road station and Linder at Southwark station, the first in a new programme of works at Brixton station by Nigerian-born artist Njideka Akunyili Crosby, and Tube Map covers by Romanian nonagenarian artist Geta Brătescu and French artist Marie Jacotey.
With almost six million journeys on London Underground each day, Art on the Underground will put women at the forefront of public space through this series of new commissions.
The statue of suffragist leader Millicent Fawcett in Parliament Square, the first-ever monument of a woman to stand within the central London location, will also be unveiled next year. It is being created by Turner Prize-winning artist Gillian Wearing after being commissioned by the Mayor. This follows Caroline Criado-Perez's successful campaign for a statue of a woman in Parliament Square.
Sadiq Khan announced plans for the #BehindEveryGreatCity campaign this morning as he visited Platanos College in Lambeth. The Mayor joined teenage girls and boys in a Fawcett Society workshop about the work of Millicent Fawcett and the suffragist movement. During the visit, the Mayor heard from the pupils about their hopes for gender equality in the capital.
Century since the first women got to vote in the UK
The Mayor of London, Sadiq Khan, said: "Next year we mark a century since the first women got to vote in the UK - one of our country's most pivotal moments. Milestones like this are a time to look back and mark the huge strides that have been made towards gender equality, and to celebrate the success of women in our great city.
"It is also a time to take stock of the huge inequalities women still face, almost 100 years on since women first voted and, more importantly, to take action. At City Hall, I have pledged to be a proud feminist and I am delighted to announce this campaign to say that Behind Every Great City is equality, opportunity and progress – regardless of your gender.
"Over the next year, and beyond, we will highlight how women of all ages, ethnicities, faiths and backgrounds make London the great city it is. More importantly, we will redouble our efforts in the fight for gender equality. During this momentous year and beyond, we must do all we can to remove any barriers to women's success and to unlock their full potential."
Since becoming Mayor, Sadiq Khan has published City Hall's first-ever gender pay audit as well as gender pay audits for all of the Mayoral bodies including Transport for London, the Metropolitan Police and the London Fire Brigade. Following these audits, City Hall is implementing plans to reduce the gender pay gap– by increasing the availability of part-time and flexible-working options, aiding career progression, offering mentoring, career-support programmes and sponsorship for qualifications, piloting 'no name' application forms and training senior managers to ensure recruitment processes are as fair as possible. More than half of Sadiq's Deputy Mayors are women, as are 10 of the 16 members of his Business Advisory Board.
Deputy Mayor for Culture and the Creative Industries, Justine Simons, said: "One hundred years ago women advocated, campaigned and fought bravely against a system that denied them their fundamental democratic rights. A century later, women are leading at every level of society in London - in public service, the arts, politics, science and in business - and are inspiring Londoners across our city to fulfil their potential.
"So much has been achieved over the past 100 years but there is still a long way to go. Together with organisations and industries across the capital, we need to spread the message that Behind Every Great City are women and girls from all walks of life, contributing hugely to the success of our capital."
Key facts and dates – 1918 Representation of the People Act
1918 - The Representation of the People Act is passed on 6 February giving women the vote provided they are aged over 30 and either they, or their husband, meet a property qualification
1918 - The Parliament (Qualification of Women) Act is passed on 21 November allowing women to stand for Parliament
1918 - Women vote in a general election for the first time on 14 December with 8.5 million women eligible
1928 - The Equal Franchise Act is passed giving women equal voting rights with men. All women aged over 21 can now vote in elections. Fifteen million women are eligible
1929 - On 30 May women aged between 21 and 29 vote for the first time. This general election is sometimes referred to as the Flapper Election
References
* 28 per cent of women say their gender hinders their progression in the workplace – compared to just 9 per cent of men, 29 per cent of men think their gender helps their progression in the workplace compared to 7 per cent of women. (All figures, unless otherwise stated, are from YouGov Plc. Total sample size was 1,036 adults. Fieldwork was undertaken between 20th - 23rd November 2017. The survey was carried out online. The figures have been weighted and are representative of all London adults (aged 18+). Click here for the survey report.
** ONS Data