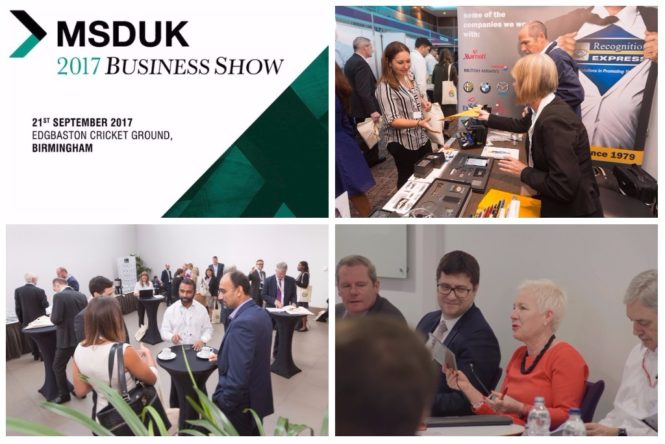 MSDUK is set to launch its annual Business Show on 21st September 2017 focused on connecting some of the fastest growing and innovative ethnic minority-owned businesses with public and private sector procurement organisations. The MSDUK 2017 Business Show, to be held at Edgbaston Cricket Ground in Birmingham, will provide an opportunity for ethnic minority businesses from across the UK to meet, network and present their products and services to over 100 buyers and category managers from top global corporate organisations including IBM, Bristol-Myers Squibb, EY, CBRE, MasterCard, Cummins, Accenture and many others.
The business exhibition featuring 40 exhibitors and over 250 delegates will also see the first MSDUK Innovation Challenge, with 10 finalists pitching for two $10,000 executive training scholarships in the USA. The MSDUK Business Show 2017 will host roundtables facilitated by business professionals. It will offer startups and growing businesses a chance to build an understanding of Supplier Diversity Best Practice. Workshops include 'Buildings of the Future' and 'Unconscious Bias' and the event culminates with Indian and Lebanese street food at an Ethnic Food Festival in the evening.
Buyers from a large private or public sector organisation, committed to inclusion of diverse businesses that can bring innovation, competitiveness and flexibility, will have an opportunity to meet new partners and suppliers for their sourcing operations.
Click here to view the Top 10 Finalists for the MSDUK Innovation Challenge 2017.
Tickets for the MSDUK Business Show start at £55, click here to book.
Click here for further information about the MSDUK Business Show 2017.
About MSDUK
Minority Supplier Development UK  (MSDUK) is the UK's leading non-profit membership organisation driving inclusive procurement. Established in 2006, MSDUK works with over 45 purchasing organisations and in excess of 3,000 ethnic minority businesses to drive diversity and inclusion in corporate supply chains. MSDUK has played a leadership role in supplier diversity/inclusive procurement in the UK since its inception in 2006, working to encourage global and British companies to provide access to supply chain opportunities and engage with ethnic minority-owned businesses. MSDUK is part of a global network of similar organisations in Australia, Canada, China and South Africa - all affiliated with the National Minority Supplier Development Council, USA.
MSDUK promotes the ethos of diversity and inclusion in public and private sector supply chains by identifying and introducing certified ethnic minority owned businesses (EMBs) to the procurement teams of large corporations with a drive to increase the diversity of their suppliers.
For further information visit www.msduk.org.uk