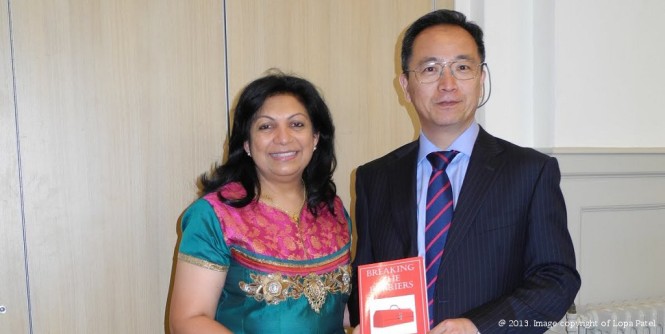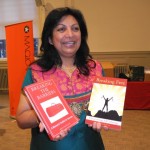 Executive trainer and life coach Mala Shah, the guest author of chapters in two books, entitled 'Breaking Free: Overcoming Self-Sabotage' and 'Breaking the Barriers: A Woman's Toolkit for Success', held a book launch on Friday 7th June2013 at Christ Church House in London. Released by Professional Woman Publishing, they are a series of powerful books on women's leadership created by Linda Ellis Eastman, CEO of Professional Woman Network.
The books are written by 22 international coaches, entrepreneurs and CEOs. Ms. Ellis Eastman, regarded as one of the top speakers and workshop facilitators globally, has touched the lives of over 100,000 women from twenty three countries and is a leading expert on women's issues.
'Breaking Free: Overcoming Self-Sabotage'
Written by contributing authors from Jamaica, Canada, France, Italy, Mexico, Brazil, China, India, the U.K., and the United States, 'Breaking Free overcoming Self-Sabotage' is for women internationally who seek new strategies for breaking free from limitations and embracing a new life filled with confidence and higher self-esteem. Chapters include dealing with health, wellness, finances, chaos, negative self-talk, overcoming fear and setting boundaries.  The authors share powerful steps to help you overcome your personal and professional barriers and help you break free from old habits and step into a 'new you'. Mala Shah, creator of the "C.I.P" model (C I P:  Consistent - Insistent – Persistent) has written the chapter entitled 'Mission to Success'.
'Breaking the Barriers: A Woman's Toolkit for Success
"Breaking the Barriers: A Woman's Toolkit for Success" is authored by CEO's, leaders, and experts from the U.K., Belgium, India, and the United States with chapters including a toolkit of powerful personal and professional development such as: Increase Your Confidence-Increase Your Success, Jump; Through the Flames of Doubt, Get Off the Bench and Into the Game; Courage to Follow Your Heart; The Art of Setting Boundaries; Know Who You Are Before You Know Where You're Going and more. Mala's chapter is entitled 'Be a Core Genius' which stands for "courage, organised, realistic risk and excel to the highest level."
About Mala Shah
Master NLP, BSc., Dip
Mala has always been interested in personal development and fascinated by what motivates people. She grew up in a business environment, and worked for European Bank for Reconstruction and Development in London for 14 years before resigning from her analyst position. During this tenure she pursued, coaching and mentoring individuals, whilst doing her job.
Whilst working full time- she returned to part-time education and took up a course in teaching computer software training. Without realising where it would lead, this was the beginning of a new future for her. Whilst studying for this course she realised the necessity of learning psychology and became fascinated by the subject. She decided to pursue a part-time diploma in Psychology and gradually to a Degree in Psychology. She graduated in BSc Degree in Psychology in 2003 at Birkbeck College London.
Mala, continued her Personal development and achieved Neuro-Linguistic Programming (NLP) Practitioner qualification (2004) from Paul McKenna, Richard Bandlar (the co-creator of NLP in the late 1970's) and Michael Neill, (2006) graduated from Mastery University with Anthony Robbins in California USA and (2008) stepped up to Master NLP Practitioner (2009). Mala trained for her "Thought Field Therapy" (TFT) with Callahan Techniques ® and is now a qualified Licensed TFT practitioner.