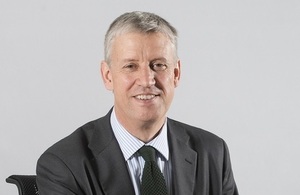 Energy Minister Baroness Neville-Rolfe has today announced the appointment of Tom Smith as Chairman of the Nuclear Decommissioning Authority (NDA). Mr Smith will be responsible for the operation, decommissioning and clean-up of 17 legacy nuclear sites, including Sellafield. He will assume the role from 1 March 2017 from Stephen Henwood, who will step down as Chair after 9 years in the role. Mr Smith's term will run from 1 March 2017 to 29 February 2020.
About Tom Smith
Tom read Chemistry at Balliol College, Oxford and is a Member of the Institute of Directors. His initial career was in the Diplomatic Service, working in London, Hong Kong and Beijing between 1979 and 1990, when he was part of the team that negotiated the 1984 treaty with China on Hong Kong.
With a career embracing both public and private sectors, he spent 10 years at the Go-Ahead Group plc, becoming Managing Director Rail Development and was instrumental in making Go-Ahead one of Britain's largest train operators. He was Chairman of the Association of Train Operating Companies from 2009 to 2013. Previous to his career in the rail industry, he was Managing Director of Midland Expressway, the company that developed and operates the M6Toll; and held a number of senior positions at Trafalgar House plc.
In 2013 he was appointed as Non-Executive Director of the Nuclear Decommissioning Authority, serving as a member of the NDA's Audit and Risk Assurance Committee. In January 2014, Mr Smith was appointed a Non-Executive Director of the Highways Agency and became a Non-Executive Director of Highways England on 1 April 2015. He is also Chairman of Angel Trains Group.