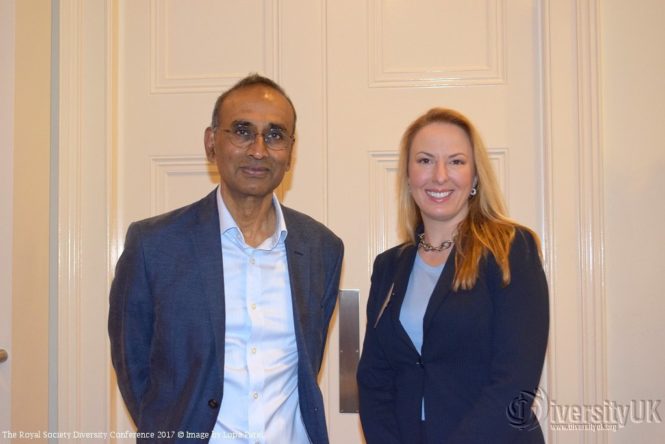 This fifth annual Royal Society Diversity Conference, focusing on 'confidence and competence' took place on Thursday 16th November 2017. Sir Venki Ramakrishnan, President of the Royal Society, gave a welcome address at the conference, in which he urged greater efforts to identify barriers to inclusivity and to breaking down those barriers. He said; "unless we can ensure that everyone is treated with dignity and respect we will continue to deny people the chance to fulfil their potential". He ended by saying "All young people need access to an education that allows them to realise their potential, otherwise we are simply wasting talent. And wasting talent is not just to the detriment of the individual – we lose as a society if we do not allow everyone to flourish to the best of their abilities."
The keynote speaker, Professor Sarah-Jane Leslie of Princeton University, was introduced by Dr Julie Maxton, Executive Director of the Royal Society. Professor Leslie spoke about research she published with colleagues earlier this year that showed that by the age of 6, girls become less likely than boys to associate brilliance with their own gender and are more likely to avoid activities said to require 'brilliance'. She urged the audience to avoid terminology such as "talented", "genius" of "gifted" over words like "hard-working", "dedicated" and "diligent" in relation to recruitment.
The conference explored ways to remove barriers to participation in STEMM education with panel debates with expert speakers including: Professor Saiful Islam FRSC, 17 year old Alice Pinney of GirlGuiding; Katherine Sparkes of the Lightyear Foundation and Grahame Price of St Paul's Way Trust School. A second panel led by chair Professor Jane Clarke FMedSci FRS comprised Rosamund McNeil of the National Union of Teachers, Francesca Borgonovi of the OECD; Lindsey Joy of the North East Local Enterprise Partnership and Kevin Coutinho of the Windsor Fellowship and University of Oxford.
Dr Eugenie Hunsicker, Chair of the London Mathematical Society Women in Mathematics Committee was the winners of the Athena Prize presented by Professor Uta Frith DBE FBA FMedSci FRS, Chair of the Diversity Committee, The Royal Society.