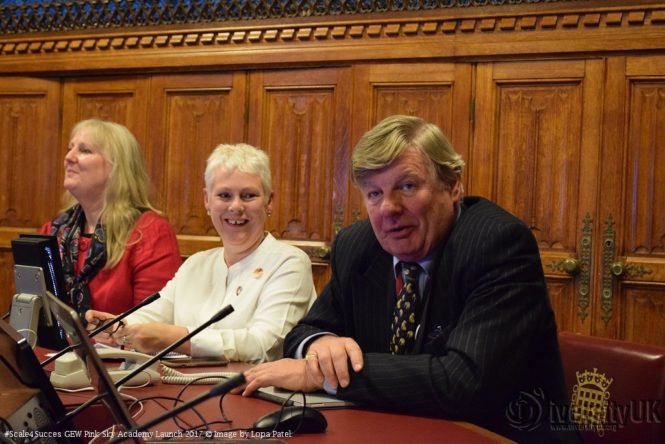 The Pink Shoe Club, a networking club for leading women in Britain, launched the Pink Sky Academy during Global Entrepreneurship Week at the House of Lords on 15th November 2017. Hosted  by The Earl of Erroll, the Pink Shoe Global Entrepreneurship Week (GEW) 2017 event highlighted the importance of innovation and the contribution growing businesses make in driving forward the economy. #Scale4Success emphasises high status female entrepreneurs and aims to expand participants' knowledge and skills to achieve ongoing benefit. Launched during the Scale4Success event by Patron Deborah Leary OBE, the Pink Sky Academy is hoping to encourage more women to startup and scaleup their business ventures.
About the Pink Shoe Club
Founded in 2007 by serial entrepreneur Helene Martin Gee, the Pink Shoe club connects people of influence to explore ideas, business and opportunities. It's an alliance of diverse, modern leaders who have a passion for their own lives and for encouraging and effecting positive change.
The creativity and excitement of the network is stimulated by the intentional integration of business with the artistic, the political, the creative and the entrepreneurial; plus sport, charities, education, public life, the professions and the Forces – leaders networking for successful, worthwhile and enjoyable lives.
The Pink Sky Academy has been launched with the support of the Pink Sky Foundation which engages with key decision makers to inspire, support and encourage greater participation of women in all areas of life. It creates opportunities for members and corporate partners to showcase work, skills, and services.
The Charitable objectives of Pink Sky are:
To develop, support and encourage women of all sectors, cultures, ages and backgrounds into senior roles across all areas of business, academia, the professions, trades and public life.
To help women gain the skills, confidence, technology and networks they need to become successful business owners, company directors or hold public office, so that they can contribute to and have a stronger voice in society.
To foster ambition in women through positive role models empowering them to rise to the top in any sector or public life, academia, commerce or industry.
To work in partnership with appropriate organisations to advance gender parity and economic development.
To work with under-represented groups to develop, support and encourage wider inclusion in professional and business life and societal advancement.
For further information visit http://pinkshoeclub.com/