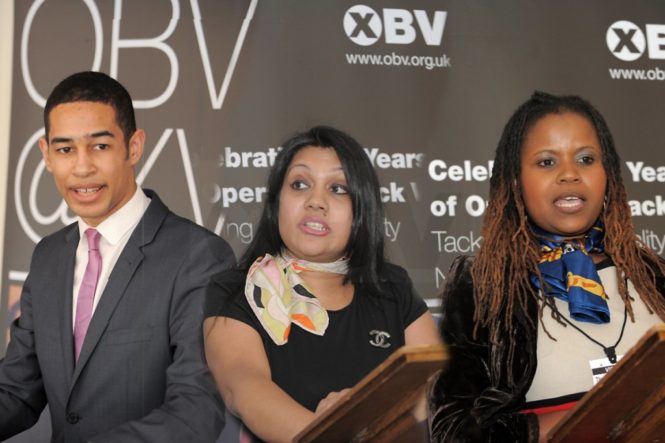 Operation Black Vote launched it Parliamentary Shadowing Scheme on 26th May 2017 to nurture the country's future Black and Minority Ethnic (BME) leaders. The aim of the programme is to address the deficit of BME individuals in all areas and levels of political life. First launched in 1999, the scheme will pair BME individuals – called Shadows – with a Member from either the House of Commons or Lords. Over the course of 15 months Shadows will see life in Westminster and in the constituency. By doing so, they will experience both national and local politics, and gain a valuable insight into the 'corridors of power'.
Simon Woolley, OBV Director said: "This scheme has the potential to change your life and that of our society. We seek to unlock your talent, build upon it and show you a pathway to high office. We believe when more of us are there - great changes occur. If you're ready for that journey and seek to follow in the footsteps of Mayor Marvin Rees and Baroness Sayeeda Warsi, apply now."
'Bristol's Mayor Marvin Rees, first directly elected Mayor of Caribbean descent in Europe stated that this scheme gave me a clear pathway to not only high office but also to be better connected to the kaleidoscope of communities I now seek to serve'.
Shadows will have the chance to explore:
• How Parliament works
• The role of the Speaker
• MP's surgeries, public meetings and outreach
• The work of political parties
• The role of the Commons and the Upper House
• The role of Ministers and Shadow Ministers
• How big business works
• Entrepreneurial skills
• Access to finance
Participants will also gain the following skills:
• Political, civil and business knowledge
• Confidence building
• Community activism – participation, negotiating, and leadership
• Communication – writing, presentation skills, and public speaking.
OBV is looking for 25 BME dynamic individuals aged 17+ with a keen interest in making a real and positive difference to society. Those interested in participating must apply by Monday 12th June 2017, with interviews in July. Applications can be obtained by online at www.obv.org.uk; via email shadow@obv.org.uk or by calling T: 0208 983 5430
About OBV
Operation Black Vote is non-partisan political campaigning organisation. At its core Operation Black Vote exists to ensure there is greater racial justice and equality throughout the UK. OBV seeks to inspire BME communities to engage with public institutions in order to address the persistent race inequalities in areas such as education, health and employment. OBV's work spans a number of areas including voter registration, lobbying politicians, mentoring schemes and political leadership programmes.
For further information visit www.obv.org.uk