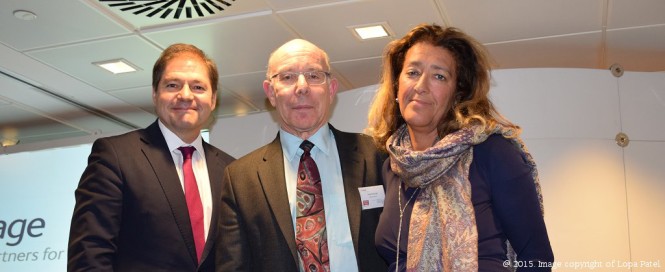 Peter Reichwald, Head of NfP, and Albert Ellis CEO at executive recruitment firm Harvey Nash plc launched Engage, a new inclusion network connecting business leaders from all cultural backgrounds, on Tuesday 13th January 2015 with guest speaker Heather Rabbatts CBE. Hosted in partnership with the Financial Times Non-Executive Director's Club at the paper's London headquarters, the event was attended by a diverse group of senior leaders of all ethnicity, nationalities, sexual orientation, gender and different cultures.
The purpose of the network is to act as a platform for discussion, networking and peer-to-peer support for a section of the business community traditionally underrepresented at executive and board level. Engage provides its members with an opportunity to exchange ideas and experiences in an environment outside the normal business meeting. Engage members - all at Executive board, Non-Executive or Trustee level – are 'Partners for Progress', broadening Harvey Nash's candidate community and generating greater benefits for themselves and Harvey Nash's clients.
The launch Engage follows the success of Inspire - Harvey Nash's board network of senior board women, launched in 2008 - which now has over 5,000 members across the UK, Continental Europe, the U.S. and Asia Pacific. "We believe talent comes in all sizes, colours, nationalities, sexual orientation, age, gender and different cultures, and as an Executive and Non-Executive recruiter we are in a unique position to contribute to the inclusion discussion and to facilitate meaningful change," said Peter Reichwald, "it's relatively easy to access the traditional majority usually found in executive roles and on boards, but through Engage we aim to provide our members with the widest opportunities and our clients the very widest, and best, pool of talent."
Guest Speaker Heather Rabbatts CBE spoke about her experiences as the young Chief Executive of a local authority council in the UK; her first Non-Executive Directorship and her current role as director at The Football Association. She spoke passionately about the role of leaders to leave a legacy of inclusiveness and for the need for stamina, persistence and networking in candidates from diverse communities when applying for board level roles.
About Heather Rabbatts CBE
Heather Rabbatts CBE is a Jamaican-born British lawyer, businesswoman, and broadcaster, who rose to prominence as Chief Executive of the London Borough of Lambeth, the youngest council chief in the U.K. Born in Jamaica, she moved to England aged three. She attended the London School of Economics and became a barrister in 1981. From 1987 she worked in local government, becoming Deputy Chief Executive of Hammersmith and Fulham in 1989. She became Chief Executive of Merton before being appointed to the post of Chief Executive of Lambeth in 1995, making her the youngest council chief in the country at the time.
On leaving Lambeth Council in March 2000, she became Chief Executive of iMPOWER, a public sector consultancy, which she both founded and was co-chair. She was a Governor of the BBC from 1999 to 2001, but resigned upon her appointment to Channel 4 where she was Managing Director of Channel 4's education programmes and business, 4Learning. She is a Governor at the London School of Economics, an Associate of The King's Fund and on the board of directors at the British Council.
On 3 May 2006 she was appointed as the new Executive Deputy Chair of Millwall F.C., and on 27 October 2006 she was appointed as Executive Chairwoman of Millwall Holdings plc, taking over from Peter de Savary. On 22 December 2011, Heather became the first woman to be appointed as a director of The Football Association.
Diversity UK Members - please login to view the video of Heather Rabbatts speaking at the event.
If you would like to become a Diversity UK Member, please click here