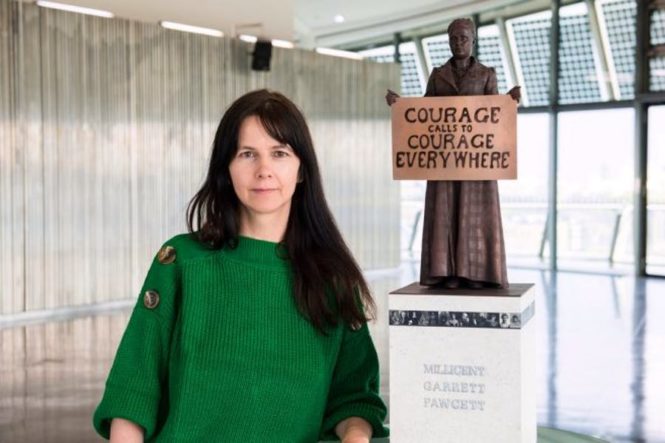 Plans for a statue of suffragist leader Millicent Fawcett in Parliament Square have been given the go-ahead it was announced today. This follows a successful planning application from the Mayor of London, Sadiq Khan to Westminster City Council and represents the first-ever monument of a woman to stand within the iconic central London location.
Communities Secretary Sajid Javid and the Mayor are working to ensure that the statue will be unveiled for the centenary of the 1918 Representation of the People's Act, which gave some women the vote, and was introduced thanks to the campaigning of Fawcett and other suffragists and suffragettes.
Following Caroline Criado-Perez's campaign for a statue of a woman in Parliament Square, the Mayor announced Turner Prize-winning Gillian Wearing as the artist who will take the landmark project forward, making it the first statue created by a woman to be erected in the square.
Gillian Wearing today unveiled a model of the monument, which will be a contemporary depiction of Millicent Fawcett at the age of 50, the year the National Union of Women's Suffrage Societies was founded. The statue will portray Fawcett holding a placard which reads 'courage calls to courage everywhere' – taken from a speech she gave after the death of Suffragette, Emily Wilding Davidson, at the Epsom Derby. Loaned by the Fawcett Society, an original brooch which was presented to Fawcett will be scanned and cast in bronze to feature as part of the monument.
The entire statue will be cast in bronze, using 21st century technology, and will complement the heritage of the iconic square. It will also acknowledge the contributions of the many other supporters involved in the struggle for universal suffrage by including the names of people who helped lead the campaign along the statue's plinth.
Throughout the creation of the statue, Gillian will work with an ensemble of historians, academics and artists to ensure the monument properly reflects the suffrage movement and Millicent Fawcett's leadership and character. The monument will join the 11 statues already in Parliament Square including Mahatma Gandhi, Nelson Mandela and Winston Churchill.
Gillian was selected as the artist following a rigorous process undertaken by the Suffrage Statue Commission, which included gallery directors, curators, cultural leaders and campaigners, chaired by Deputy Mayor for Culture and Creative Industries, Justine Simons.
Earlier this year, the Government announced that the statue would be funded as part of a £5 million fund to celebrate the centenary of women's suffrage. This was part of a wider package of funding for women's issues in the Budget, including £5 million to support returners back to work after time spent caring, and £20 million to tackle domestic violence and abuse.
Caroline Criado-Perez launched her campaign for a statue in Parliament Square in May 2016, with a change.org petition which was signed by almost 85,000 people. Communities Secretary Sajid Javid and the Mayor backed the campaign, and have worked alongside other campaigners and civil society groups to ensure the statue can be located in Parliament Square. The statue of is co-commissioned by 14-18 NOW, the UK's art programme for the First World War centenary.
The Mayor of London, Sadiq Khan, said: "As a proud feminist at City Hall, I have given Caroline's inspired campaign my full support and am delighted that we have been given the go-ahead to bring the first ever statue of a woman to the centre of British democracy in Parliament Square – something which is long overdue. Next year marks a century since the start of women's suffrage in the UK - one of our country's most pivotal moments – and our mission now is to ensure that we can begin the centenary celebrations with the unveiling of this landmark piece.

"This will be one of the most momentous and significant statues of our time and I know that Gillian Wearing's exceptional talent and unique insight will do great justice to the movement and Millicent Fawcett's legacy. We want this statue to depict the strength and determination of the women who dedicated their lives to the fight for women's suffrage and to inspire many generations to come – and I know Gillian's creation will do just that."
Communities Secretary Sajid Javid said: "Aged just 22 Millicent Fawcett gave her first speech on women's suffrage and then campaigned relentlessly for nearly 50 years before the vote was finally given to women."
"I am proud that this beautifully designed statue of Fawcett in Parliament Square will inspire a new generation to champion her struggle for equality and women's rights."
About Millicent Fawcett
Millicent Garrett Fawcett (1847 – 1929) was a leading Suffragist and campaigner for equal rights for women. She led the biggest suffrage organisation, the non-violent (NUWSS) from 1890-1919 and played a key role in gaining women the vote. Reflecting her passion for education, she helped to found Newnham College, Cambridge. She also engaged in other political activities such as supporting worker rights and overcoming laws which were based on a dual morality for men and women.
In 1866, when just 19, Millicent Fawcett collected signatures on a petition for women's votes. She went on to lead the constitutional suffrage campaign and made this cause her lifetime's work, securing equal voting rights 62 years later. The Fawcett Society continues her work and is the UK's leading charity campaigning for gender equality and women's rights.  It continues her legacy of fighting sexism and gender inequality through hard-hitting campaigns and impactful research.
About Gillian Wearing
Gillian Wearing was born 1963 in Birmingham. She lives and works in London.
Wearing has a solo show opening at The National Gallery of Denmark, Copenhagen in October this year.
Recent solo exhibitions include Sandra and Gerald Fineberg Art Wall, ICA Boston, 2016; Instituto Valenciano de Arte Moderno, IVAM, Valencia, 2015; A Real Birmingham Family, Centenary Square, Library of Birmingham. Birmingham, 2014; We Are Here, The New Art Gallery Walsall, Walsall, 2013; Whitechapel Gallery, London, toured to K20, Kunstsammlung Nordrhein-Westfalen, Dusseldorf and Pinakothek der Moderne, Museum Brandhorst, Munich, 2012; A Real Birmingham Family, Ikon Gallery, Birmingham, 2011; Confessions: Portraits, vidéos, Musée Rodin, Paris, 2009; Living Proof, ACCA, Australian Centre for Contemporary Art, Melbourne, 2006.
Solo publications include Gillian Wearing, Whitechapel Gallery and Ridinghouse, London, 2012; Family History, Film and Video Umbrella and Maureen Paley, London, in association with Artists in the City, Reading and Ikon Gallery, Birmingham, 2007; Living Proof, ACCA, Australian Centre for Contemporary Art, Melbourne, 2006; Mass Observation, Merrell, London / New York, and Museum Of Contemporary Art Chicago, Chicago, 2002; A Trilogy, Vancouver Art Gallery, Vancouver, 2002; Broad Street, Gillian Wearing, Museu do Chiado, Lisbon, 2001; Gillian Wearing - Sous influence, Musée d'Art Moderne de la Ville de Paris, Paris, 2001; Gillian Wearing, Centro Galego de Arte Contemporánea (CGAC) and Fundación la Caixa, Barcelona, Santiago de Compostela, 2001; Unspoken, Kunstverein München, Munich, 2001; Gillian Wearing, Serpentine Gallery, London, 2000.
Gillian Wearing is represented by Maureen Paley, London; Tanya Bonakdar, New York and Regen Projects, Los Angeles.
Gillian Wearing won the Turner Prize in 1997 and was awarded an OBE in 2011.
Suffrage Statue Commission
(Chair) Justine Simons, Deputy Mayor for Culture and Creative Industries
Jenny Waldman, Director 1418 NOW
Caroline Criado-Perez, campaigner
Tamsin Dillon, Curator 1418 NOW
Melanie Keen, ‎Director Iniva,
Sally Shaw, Director Firstsite Colchester