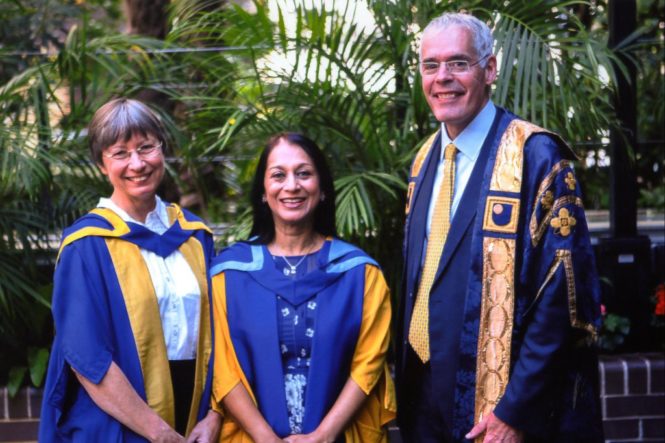 Lopa Patel MBE, Founder & CEO of Diversity UK, was awarded an honorary doctorate by The Open University at a graduation ceremony hosted at the Barbican Centre on Friday 22nd September 2017. She was recognised for her efforts to promote diversity and inclusion in science and technology, and her broader contribution to British industry, society and culture. Presented with her doctorate certificate by Vice Chancellor Peter Horrocks CBE, Lopa was commended for being an outstanding role model who has used her own successes to help pave the way for others.
Lopa was nominated by Jhumar Johnson, Director of Development at The Open University (OU), for her exceptional contribution to diversity in the STEM sector; she said: "Lopa is a passionate advocate for encouraging women and ethnic minorities to pursue a career in STEM. Her ethos of diversity and inclusion mirrors that of The Open University and makes her a worthy recipient of this prestigious accolade; she is truly inspirational."
Indian trailblazer for women and ethnic minorities
Lopa Patel MBE has been a trailblazer for more than three decades, becoming the first Asian woman be awarded The Queen's Award for Enterprise Promotion (2015) and to be elected a Fellow of the Chartered Institute of Marketing (2007). She was honoured with an MBE in 2009 and has won many industry accolades and awards. She was featured in The Sunday Times 'Maserati 100' Index 2016; a definitive list of of Britain's most successful philanthropists, investors, mentors, and entrepreneurs, and in the Top 25 of the Smith & Williamson Power 100 2017.
A vocal advocate for diversity & inclusion in business
Dr Karen Kear, Deputy Head of the OU Faculty of Science, Technology, Engineering & Mathematics, who cited Lopa's achievements said, "she is a passionate believer in the importance of giving back. Lopa has been a vocal advocate for the importance and value of diversity in business". She is the Founder and CEO of Diversity UK, a charity that aims to promote inclusion and cultural understanding in Britain, through research, advocacy and dialogue. Dr Kear added, "Lopa has also been a generous and engaging mentor throughout her career, deeply committed to helping other people fulfil their dreams and realise their ambitions."
In accepting her doctorate, Lopa said "I am deeply humbled and honoured to receive this honorary doctorate today. Not only for myself, but also for my mother, my daughter and for all women striving to get a good education."
"I admire that The Open University continues to work for greater equality of opportunity and social mobility. Inequality is an issue that needs to be tackled urgently and decisively and I am so very glad that The Open University is there - a long-established, practical, useful and far-reaching resource to help us do just that."
About Mrs Lopa Patel MBE FCIM FIDM FRSA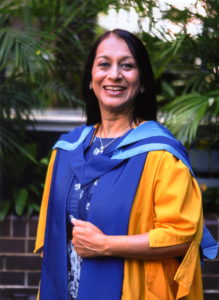 Lopa Patel is a digital entrepreneur with significant experience of creating start-ups and transforming businesses through technology. The founder of two ventures in online media and a data-driven marketing consultancy, she is an evangelist for STEM, innovation and bridging the skills gap in business and experienced in working as a Non-Executive Director and as a Trustee of the Science Museum Group. She is also the Founder & CEO of equality and inclusion think tank Diversity UK and an inspirational leader who has been recognised with accolades including an MBE for services to the creative industries in 2009 and the Queen's Award for Enterprise Promotion 2015. She was featured in The Sunday Times 'Maserati 100' Index 2016; a definitive list of of Britain's most successful investors, mentors and entrepreneurs, and in the Top 25 of the Smith & Williamson Power 100 list in 2017. Lopa is of Indian descent.
For further information visit https://lopapatel.com/
About The Open University
The Open University (OU) is the largest academic institution in the UK and a world leader in flexible distance learning. Since it began in 1969, the OU has taught more than 1.8 million students and has almost 170,000 current students, including more than 15,000 overseas.
Over 70% of students are in full-time or part-time employment, and four out of five FTSE 100 companies have sponsored staff to take OU courses.
Regarded as the UK's major e-learning institution, the OU is a world leader in developing technology to increase access to education on a global scale. Its vast 'open content portfolio' includes free study units, as well as games, videos and academic articles and has reached audiences of up to 9.8 million across a variety of online formats including OpenLearn, YouTube and iTunes U.
For further information please visit: http://www.open.ac.uk/
About TESS India
Initiated in November 2012, TESS (Transforming Teaching & Enhancing Learning) is an award-winning project focussing on the professional development of teacher educators and teachers in the states of Bihar, Madhya Pradesh, Uttar Pradesh, Odisha, Karnataka, Assam and West Bengal in India. TESS-India's goal is to encourage student centric, active teaching and learning pedagogies at both elementary and secondary school levels across India in maths, science, English, and mother tongue. The TESS-India project has already successfully partnered with central and state governments in its seven focus states, The State Council Educational Research and Training bodies (SCERTs), District Institutes of Education and Training (DIETs), teacher educators, teachers, Non-Government Organisations (NGOs), Indira Gandhi National Open University (IGNOU), National University of Educational Planning & Administration (NEUPA), and others working in the area of teacher education and professional development.
For further information visit www.tess-india.edu.in