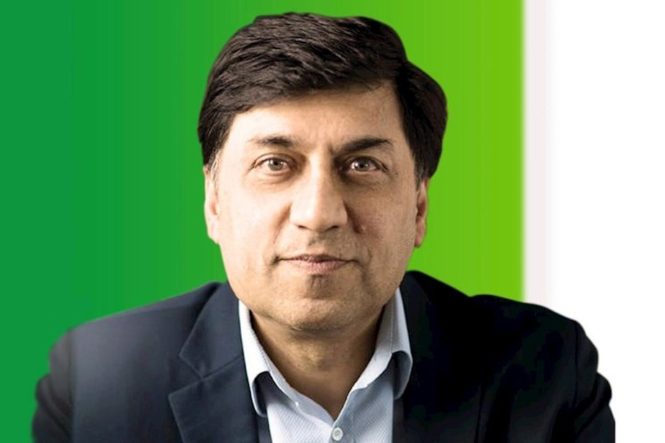 FTSE Boards 'do not reflect the ethnic diversity of the UK' states The Parker Review report published, at an event held at EY's UK headquarters, today (2nd November 2016). The report reveals that out of 1,087 director positions in the FTSE 100, only 8% of positions are held by directors of colour, of which 1.5% are UK citizens, despite the fact that 14% of the total UK population is from a non-white ethnic group (up from 2% in 1971). [Pictured above is Rakesh Kapoor, CEO of Reckitt Benckiser, one of the few Asian FTSE 100 bosses in the UK.]
Seven companies account for over one-third of directors of colour in the FTSE 100, whilst 53 of the FTSE 100 do not have any directors of colour at all. The research was undertaken in March 2016 by Dr. Doyin Atewologun of Queen Mary University of London, and Visiting Fellow of Cranfield School of Management.
The Parker Review recommends that each FTSE 100 Board should have at least one director of colour by 2021, and each FTSE 250 Board by 2024. Beyond One by '21 notes that the UK population and its workforce has changed dramatically over the past 40 years and will continue to do so. The report estimates that the UK will be the most diverse country in Western Europe by 2051, with over 30% of the population expected to be comprised of people from ethnic minority or migrant backgrounds.
Sir John Parker, who was appointed in 2015 to chair the industry-led review, said: "The Boardrooms of Britain's leading companies do not reflect the ethnic diversity of either the UK or the stakeholders that they seek to engage and represent. Ethnic minority representation in the Boardrooms across the FTSE 100 and 250 is disproportionately low.
"Many business leaders would agree that Boards that embrace gender and ethnic diversity benefit in their decision making, by drawing on an array of skills, experience and diverse views. We hope the recommendations made for consultation, will heighten awareness of the growing pool of talent in the ethnic community, and help to strengthen Boardrooms across the UK and keep corporate Britain at the forefront of global business."
Key recommendations
The Review makes a series of recommendations for consideration, to better prepare UK companies for the long-term and help to continue their standing as global leaders, including:
Increasing the ethnic diversity of UK Boards
Each FTSE 100 Board should have at least one director of colour by 2021, and each FTSE 250 Board by 2024.
Nomination committees of all FTSE 100 and 250 companies should require their human resources teams or search firms (as applicable) to identify and present qualified people of colour to be considered for Board appointment when vacancies occur.
The relevant principles of the Standard Voluntary Code of Conduct for executive search firms, in the context of gender-based recruitment, should be extended to apply to the recruitment of minority ethnic candidates as Board directors of FTSE 100 and 250 companies.
Developing candidates for the pipeline and plan for succession
FTSE 100 and 250 companies should develop mechanisms to identify, develop and promote people of colour within their organisations to build a pipeline of Board capable candidates and their managerial and executive ranks appropriately reflect the importance of diversity to their organisation.
Led by Board Chairs, existing FTSE 100 and 250 Board directors should mentor and/or sponsor people of colour within their own companies to ensure their readiness to assume senior managerial or executive positions internally, or non-executive Board positions externally.
Companies should encourage and support candidates drawn from diverse backgrounds, including people of colour, to take on Board roles internally (e.g., subsidiaries) where appropriate, as well as Board and trustee roles with external organisations (e.g., educational trusts, charities and other not-for-profit roles). These opportunities will give experience and develop oversight, leadership and stewardship skills.
Enhancing transparency and disclosure
A description of the Board's policy on diversity should be set out in a company's annual report, and this should include a description of the company's efforts to increase, amongst other things, ethnic diversity within its own organisation, including at Board level.
Companies that do not meet Board composition recommendations by the relevant date should disclose in their annual report why they have not been able to achieve compliance.
Sir John added: "This is not an exercise of tokenism; the recommendations are underpinned by strong industrial logic and the need for UK companies to be competitive in the increasingly challenging global marketplace."
Key commercial drivers for increasing ethnic diversity on UK Boards are cited in the report, including: avoiding "Group-Think", enhancing brand value and reputation, improving access to top talent and achieving a better understanding of the global supply chain.
Sir John concludes: "I trust Boards will see our recommendations as business friendly, reminding us of our need to continue to earn our licence to operate in society, and as an initiative to help UK companies to remain global leaders over the long-term.
"We believe firmly that UK companies will only achieve their most insightful and effective leadership, and be best prepared to compete in the global economic community, being led by a Board of directors that is comprised of both men and women, drawn from an appropriate range of ethnicities, who are capable of appreciating the impact of globalisation and diversity in all its forms across their organisation."
A consultation period will now open for comments to be taken. A report containing the final recommendations and findings of the Review will be published in 2017.
Business Minister Margot James, said: "The boardroom must reflect modern Britain. Companies will do better if they make better use of the talent available and increase boardroom diversity to reflect their workforces and wider society. Sir John Parker's review is an important, industry-led contribution and I look forward to the results of the consultation."
About The Parker Review
The lack of diversity in the UK Boardroom has not gone unnoticed by the Government, the public or business observers. In December 2014, speaking at a breakfast meeting held by the professional services firm EY, the then Secretary of State for Business, Sir Vince Cable urged UK business to build on its successful drive to increase gender diversity in Board leadership by drawing attention to the absence of minority ethnic leaders in our largest companies.
The Chair of Anglo American plc, Sir John Parker, who had been a member of the Davies Review, agreed with Sir Vince Cable that he would build on Lord Davies' work on gender, to bring business leaders together to respond to the challenge of ethno-cultural diversity. In late 2015, the then-Secretary of State for Business in the new Conservative administration, Rt. Hon. Sajid Javid, affirmed the government's official support for the initiative and invited Sir John Parker to conduct an official Review. This work would also complement the investigation, to be led by Baroness Ruby MacGregor-Smith, into the progression of minority ethnic groups in the labour market generally.
The composition of the Review Steering Committee assembled by Sir John Parker is set out in the Report. All members gave their time and contributions on a voluntary basis. The Committee's work was supported organisationally by EY, and by Linklaters in the drafting of the Report. Research was commissioned from the Cranfield School of Management, which had undertaken analogous work for the Davies Review. The Board is grateful for the contributions made by the Institute of Directors and the CBI.
Click here to read the The Parker Review Report in full.