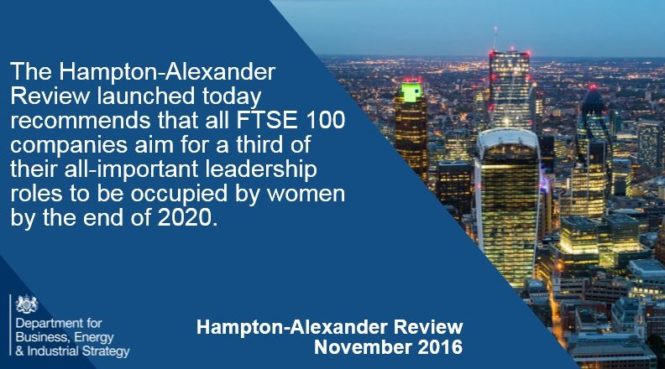 An independent review is pressing ahead with proposals to ensure talented women at the top of business are recognised, promoted and rewarded. The review, headed up by Sir Philip Hampton, Chair of GlaxoSmithKline, and Dame Helen Alexander, Chair of UBM, focuses on senior women below the company board. Statistics released today (9 November 2016) show 25% of those currently sitting on FTSE 100 executive committees, and their direct reports, are women. It recommends a voluntary target of 33% representation of women for FTSE 100 executive pipeline by 2020.
While many companies are already ahead of the game - the latest research reveals 20 FTSE 100 companies including AstraZeneca Plc, British Land Company Plc, Burberry Group, Diageo, EasyJet, Intercontinental Hotels Group, Intu Properties Ltd, ITV, Kingfisher, Land Securities Group Plc, Legal & General Group, Marks & Spencer Group, Next, Old Mutual Plc, Paddy Power Betfair Group Plc, Royal Mail Plc, Severn Trent Plc, Shire Plc, Unilever, and United Utilities Group Plc, already have at least a third of their executive pipeline made up of women - there is still more work to do. There are still 12 FTSE 100 executive committees with no women on them.
Sir Philip Hampton and Dame Helen Alexander said: "It is clear that the voluntary business-led framework to improve the number of women at the top of British business is working and it is time to extend the focus beyond the boardroom.
We are launching the next stage in the journey where FSTE 100 companies will aim for a third of their all-important leadership roles to be occupied by women by the end of 2020.
We don't under-estimate the challenge the new voluntary target presents for many FTSE companies. However, we are encouraged by the breadth of experienced women ready and willing to step up, the significant efforts underway in many companies on this agenda and the ability of British business to work together to bring about change when it is needed."
The review also recommends the Financial Reporting Council amends the UK Corporate Governance Code so that FTSE 350 companies disclose the gender balance of their executive committees and direct reports to make sure there is transparency around how many women are in senior positions.
In July 2016, the review team announced it supported Lord Davies's recommended 33% target for representation women on boards for FTSE350 companies by 2020. New figures show a small increase in the number of women appointed to board positions in the past year.
The report also shows that all male boards within the FTSE 350 is at an all-time low – going from 152 (February 2011) to 11 now.
Justine Greening, Minister for Women and Equalities, said: "No woman should be held back just because of her gender. It's vital we help more women get into the top jobs at our biggest companies, not only because it inspires the next generation but because financially business can't afford to ignore this issue – bridging the UK gender gap in work could add £150 billion to our annual GDP in 2025.
We've achieved amazing things – we now have a woman on every board in the FTSE 100 and we have the lowest gender pay gap on record. But we have to push further and focus on the executive pipeline. I am sure that the ambitions set out by Sir Philip and Dame Helen will help us get more women into those top jobs."
Future Boards Scheme
The Hampton-Alexander Review is focused on ensuring talented women succeed by removing barriers to their success, and continuing to drive forward the momentum of the Davies Review - which pushed the numbers of women on FTSE 100 boards up from 12.5% to 26%.
The government, 30% Club and Board Apprentice has also announced the launch of a new "Future Boards Scheme", giving senior women a unique opportunity to get board experience to progress their careers to the next level. The scheme is aimed at FTSE 350 companies, SMEs and other major organisations.
Several major companies and well-known public sector bodies have already signed up to take part in the scheme, including Aviva, Hammerson and the Student Loans Company.
The government believes the scheme has the potential to significantly grow the talent pipeline of women executives by giving women 12 months' experience on a major board.