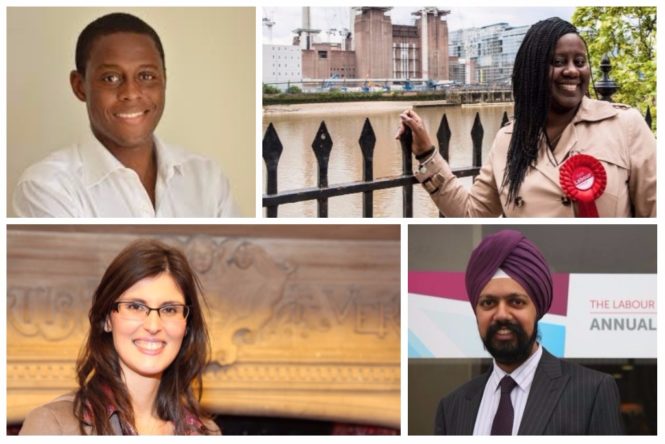 Despite the hung parliament outcome of the UK General Election 2017, there has been a stunning rise in the number of women and an increase in BME MPs. One of the unexpected results of this election has seen a remarkable rise in BME MP's in Westminster with 10 new BME MP's and only one loss, taking the number now to 51 BME MP's. But the numbers don't tell half of the story about what has occurred in this election.
For this we need to look at the new BME MP's and where they won too:
Marsha de Cordova (Battersea, Lab)
Preet Gill (Birmingham Edgbaston, Lab)
Fiona Onasanya (Peterborough, Lab)
Kemi Badenoch (Saffron Walden, Con)
Mohammad Yasin (Bedford, Lab)
Bambos Charalambous (Enfield Southgate, Lab)
Leyla Moran (Oxford West and Abingdon, Lib Dem)
Faisal Rashid (Warrington South, Lab)
Eleanor Smith (Wolverhampton South West, Lab)
Bim Alofami (Hitchen and Harpenden, Con)
Tan Dhesi (Slough, Lab)
Rise in voter turnout
From this we can gather a number of points:
First, many more candidates are standing and winning in non-urban areas such as Peterborough, Oxford, Hitchin and Harpenden. This tells us that in spite of all the present challenges- rise in xenophobia, terrorism and tackling race inequality, Britain is comfortable with its multicultural society;




Secondly, more BME people are voting, just look at Battersea, Hitchin, and Slough and Croydon central.




Thirdly, with two more OBV alumni being elected- Tan Dhesi and Marsh De Cordova,  OBV can boast the most successful BME mentoring programme ever, with four MP's, one directly elected Mayor, 30 councillors and 100 magistrates.
Great Testament to Multicultural Britain
OBV's director Simon Woolley stated: 'In many ways today's result is a great testament for multicultural Britain. More talented BME faces will help transform Parliament and inspire many more to believe that we all have a voice and a place in our society. Of course I'm particularly delighted for OBV alumnus Tan and Marsha, but I'm also thrilled for Bim Alofami and Kemi Badenoch in Saffron Waldon. Britain's diversity is one of its greatest strengths. Today we celebrate that."
Rise in the number of Women MPs
There are now 208 women in the Commons, up from 191 in 2015, as a result of Thursday's general election. This takes female representation in the Commons to a new high. Overall 32% of MPs are women but there are significant variations between parties. For Labour the figure is 45%, and 21% for the Conservatives.
Commenting, Sam Smethers, Fawcett Chief Executive, said:
"The outcome of this election was a surprise to many pollsters, but it has seen more Labour women MPs elected. The Conservative Party has not seen a significant reduction in women MPs despite losing seats.
"But the real story is that progress has stalled. Getting more women in cannot be subject to party political fortunes. As we approach the centenary of women first getting to vote in general elections, we cannot wait for another 9 elections to achieve equality.
"We agree with the recommendation of the cross-party Women and Equalities Select Committee that 45% of each party's candidates must be women. The time has come for a legally enforceable target to achieve the radical and sustainable change we need."
Fawcett's manifesto at the election called for:
Women to be represented at every level and stage of Brexit negotiations.

An increase in the national living wage to bring it up to the level of the real living wage.

An extended, dedicated, well paid period of leave for fathers

A requirement for large companies who have to report their gender pay gaps to have an action plan in place, and penalties for those who do not comply.

A long-term, national, and sustainable funding strategy for specialist women-only services including domestic violence refuges, in order to meet our Istanbul Convention obligations.

A National Care Service, giving social care parity with the NHS, and investing in social care infrastructure with a professionalised care workforce.
The Manifesto also addresses equal representation; defending women's rights post-Brexit; ending violence against women and girls, and ensuring women are not hardest hit by any economic downturn or spending cuts.
For further information about the Fawcett Society's Manifesto, visit www.fawcettsociety.org.uk
About OBV
Operation Black Vote is non-partisan political campaigning organisation. At its core Operation Black Vote exists to ensure there is greater racial justice and equality throughout the UK. OBV seeks to inspire BME communities to engage with public institutions in order to address the persistent race inequalities in areas such as education, health and employment. OBV's work spans a number of areas including voter registration, lobbying politicians, mentoring schemes and political leadership programmes.
For further information visit www.obv.org.uk